We surveyed 1,040 women and this is what we found!
Most men are likely to experience sexual dysfunction at one time or another. For some, this plays out in the form of premature ejaculation – when you finish too soon. Others experience erectile dysfunction, where they struggle to get it up.
Sexual performance anxiety is another condition that affects millions of men around the world, introducing a sense of tension and discomfort that negatively affects a couple's intimacy.
Men often feel intense shame and embarrassment when they're not able to perform. But what do women think about sexual issues such as these?
In order to answer this question, we surveyed 1,040 women. Read on to learn what we discovered!
The sexual issue that bothers women most
To find out which form of sexual dysfunction is most bothersome, we asked 1,040 women to give us their opinion.
It turns out that the majority of women – 38% – rate low libido as the worst sexual dysfunction!
A real man is always ready for sex, right? Not exactly. Low libido – or reduced sex drive – is actually a very common form of sexual dysfunction, affecting more than 5% of men, at an absolute minimum.
Low libido can be caused by many different factors: medical (such as medication side-effects and low testosterone levels), psychological (such as stress, depression and relationship problems) and lifestyle-related factors (such as too much or too little exercise, alcohol abuse and drug use).
After low libido, women rated erectile dysfunction as the second worst condition (28%), followed by premature ejaculation (17%) and delayed ejaculation (17%). Interestingly, low libido is often accompanied and caused by other forms of sexual dysfunction, such as premature ejaculation and performance anxiety.
Single women versus women in relationships
We found that women in relationships have different ideas about the most bothersome form of sexual dysfunction, as compared to single women. What did the survey show?
For women in a relationship, men with low libido were the most unpopular, with just under half (41%) of the women rating this as the worst. By contrast, single women rated erectile dysfunction as the worst form of male sexual dysfunction.
What's the difference between low libido and erectile dysfunction? A man with erectile dysfunction struggles to get or maintain an erection even if he wants to have sex. A man with low libido, on the other hand, simply doesn't experience much sexual desire.
Sexual issues will make some women not date a man
If you're a man, you may be wondering: does having a sexual dysfunction make it less likely that you'll be in a relationship? If so, which sexual issues are most likely to keep you single?
The majority of women – 41% – said that they would not date a man with erectile dysfunction. Erectile dysfunction was closely followed by low libido: 40% of women said that they would choose not to date a man with this disorder. 29% of the respondents said that premature ejaculation would have this effect, while 28% rated delayed ejaculation as the biggest turn-off.
This makes sense, given that men with low libido and/or erectile dysfunction are typically unable to have sex. Men with ejaculatory problems (premature or delayed), on the other hand, can still have intercourse.
Sexual issues that lead to breakups
Research tells us that sexual dysfunction can put a serious strain on a relationship, potentially leading to a break up. It was interesting to see that the respondents were more likely to avoid getting into a relationship with a man that has a sexual issue, compared to those who would end a relationship for that reason.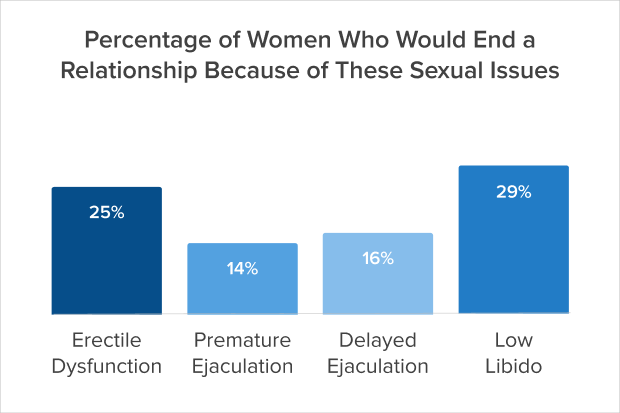 Our survey showed that a low libido is the sexual condition that's most likely to cause a break up.
Specifically, 29% of women said that they would break up with a man because of low libido, followed by erectile dysfunction (25%), delayed ejaculation (16%) and premature ejaculation (14%).
While premature ejaculation was rated as one of the less distressing forms of sexual dysfunction by women, there's no doubt that this condition can cause serious psychological harm to those who struggle with it.
First-hand experience with an issue matters
Interestingly, our survey showed that women who have first-hand experience of dating a man with a sexual issue tend to see things differently.
For example, women who have never dated someone with erectile dysfunction ranked this as the least problematic condition. On the other hand, women who have dated a man with erectile dysfunction rated this as worse than any of the other forms of sexual dysfunction!
What does this tell us? Erectile dysfunction has a real, negative impact, not just on a man, but also on his partner.
What about premature ejaculation (PE)? Again, women who have never dated a man with PE ranked this disorder as the one that they were least worried about. Women who had dated a man with PE, on the other hand, rated this experience as second worst, after low libido.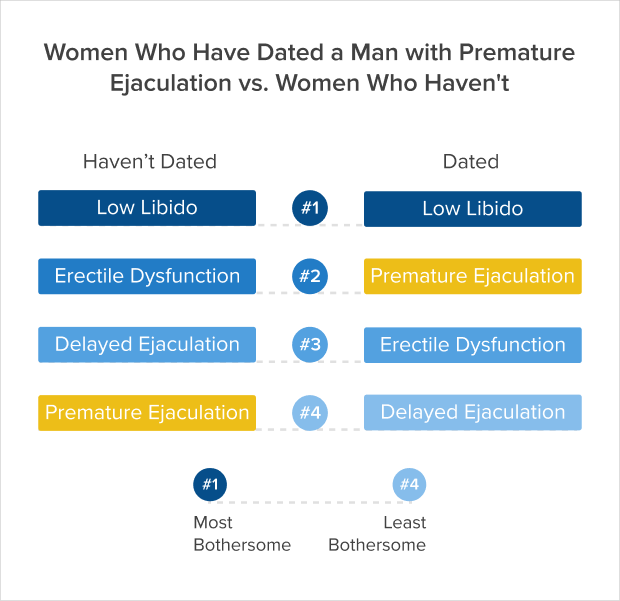 If you would like to understand more about women's perceptions toward premature ejaculation, follow this link to read a more comprehensive article we wrote on the topic.
Women expect their partner to seek treatment
Our survey showed that a whopping 70 percent of women expect their partner to get help for their sexual issues.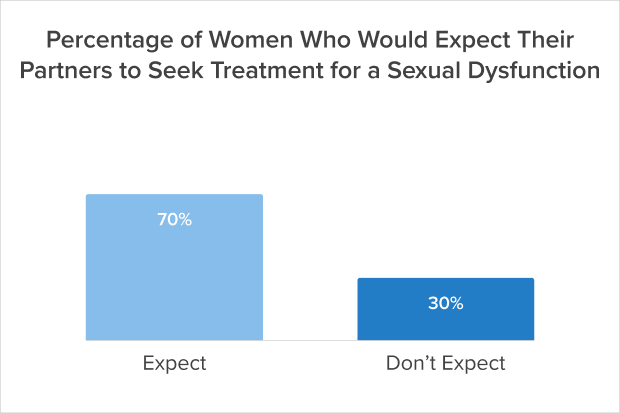 Of course, this is not entirely surprising: sexual dysfunction can have a serious negative impact on both parties and the relationship as a whole.
Unfortunately, in real life, most people don't seek treatment for their sexual issues. This study, for example, showed that amongst men with erectile dysfunction, it's only an absolute minority that seek treatment.
But, do women have specific preferences in terms of which treatment they would like their partner to go for?
Women prefer their partner to use a natural treatment
We asked women which treatment approaches they would want their partner to follow, should they have a sexual dysfunction. We chose to use premature ejaculation as an example, as this condition can be treated effectively by means of behavioral strategies, medications or other temporary solutions.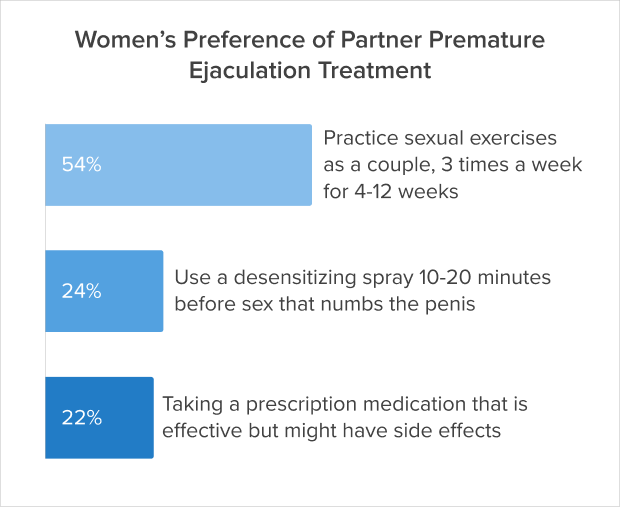 More than half of our respondents – 54%, in fact – said that they would want their partner to practice sexual exercises with them 3 times a week for 4-12 weeks. This is a highly effective treatment strategy, in which sexual partners work together to control premature ejaculation.
Other treatment options include using a gel to numb the penis (which 24% of women opted for) and taking a prescription medication with possible side effects (which 22% of women opted for).
Foreplay skills are more important than stamina
We asked women what they prefer: a man who can last long in bed or a man who has well-honed foreplay skills.
43% of women said that stamina was the most important thing, whereas 57% opted for foreplay. Clearly, lasting long in bed is important – although it's not the only thing to consider.
Ideally, as a man, you want the right combination of sexual stamina combined with foreplay skills. The good news is that both are attributes that can be developed!
The importance of foreplay increases with age
So, we already knew that the majority of women who responded to our survey preferred a man with good foreplay skills. But does a woman's age affect which sexual attribute she values more?
The results suggest that yes, age does play a role! For example, while only 48% of women aged 18-24 rated foreplay as being more important than stamina, 68% of women over the age of 54 rated foreplay as being more important!
The survey data showed a general trend whereby sexual stamina becomes less important, in comparison to foreplay skills, as the age of the female respondents increased.
Not having a sexual issue – as important as foreplay
We decided to determine which is the lesser of two evils: a man with a sexual issue who makes up for it by liking foreplay, or a man without a sexual issue who doesn't enjoy foreplay.
The results showed that nearly half (45%) of the woman surveyed would prefer for their partner to have a sexual dysfunction, as long as they like foreplay. This shows, then, just how important foreplay is!
The takeaway
Sexual dysfunction represents a common but distressing problem, affecting up to 63% of women and up to 52% of men.
In this survey, we sought to find out exactly what women think about male sexual dysfunction. Many of the answers were informative and surprising.
The results show that many women are highly bothered by sexual issues. The data even suggested that many would avoid starting a relationship – or would end an existing one – because of sexual dysfunction.
The good news is that most sexual issues can be treated. For example, if you are dealing with premature ejaculation and are looking for a natural long-term solution, check out the PE Program – a smart online system that includes exercises for self-treatment of premature ejaculation.
Methodology
We surveyed a total of 1,040 women, using an online survey. 815 of the women were from the United States, 152 women were from the UK and 73 were from Canada. It should be noted that there are several possible limitations to the data provided herein. First, all of the data was based on self-reports, meaning that this data may be susceptible to bias. Second, this survey data was captured at a specific point in time and may not be helpful in tracking changing attitudes over time. Third, our sample was not randomly selected, nor was it big enough for us to say that our findings are generalizable to all women. Finally, statistical analyses were not performed on this data, meaning that our findings are not necessarily statistically significant. Despite all of this, we believe that our data provides an important insight into women's perceptions on sexual dysfunction.
Fair use statement
We permit the free use of all images and information provided on this page. However, we ask that you kindly acknowledge the creators by mentioning Between Us Clinic and linking back to this page.