"No no no, not again…"
The "performance anxiety loop" leaving men anxious, frustrated, and embarrassed… and what they're doing to

get their erections back
get their
erections back
Scroll down to read about the solution.
No man
should ever

have to deal with this

This time, "it" was DEFINITELY going to happen.
And as things in the bedroom warmed up, "it" looked more and more promising.
But just as you were about to hit the moment of truth…
And you started to think your erection was going to stick around this time…
"No no no…"
The erection that was strong and firm seconds ago begins to soften. You try to push down the rising anxiety.
You've got this, you think. Just relax and enjoy the moment. But the stress keeps rising and your erection keeps dropping.
The desire's burning bright, but your body's not cooperating.
You frantically kiss your partner and pray you can recapture the magic.
You can't.
A minute later, it's gone. And while you know you can satisfy her in other ways, you're tired of the same story playing out yet again.
You're sick of not being able to enjoy sex without the frustration and worry.
You're not alone in struggling with erection-melting anxiety and stress.
Studies show this embarrassing frustration happens to a lot of men, even when they have nothing physically wrong with their parts.
Luckily, there's an easy way to know if you're suffering from what's called sexual performance anxiety…
A simple test to tell if ED Is In Your Mind
Before you try to solve anything, you need to know what's really plaguing your performance in the bedroom.
There's a simple way to find out. If you have normal erections when:
You wake up in the morning, and/or
You masturbate
Then it's safe to assume you're dealing with psychological ED—AKA sexual performance anxiety.
This condition causes your erection to vanish, often just before or even at the moment of truth, thanks to unwanted anxiety and stress.
If that's what you're facing, keep reading. You'll discover how anxiety and stress is destroying your sexual confidence… but more importantly, how to get your erections (and confidence) back.
Your brain thinks the penis is
(and that's a big part of the problem)
(and that's a big part of the problem)
No matter what "you" think, your brain considers the penis non-essential.
When you start to feel stressed or anxious, your brain kicks into gear the same way it would if you were in a life-threatening situation.
This is the famous "fight or flight" response, and its job is to prepare your body to either protect itself or get the heck out of there.
And when you're in the bedroom, worries that suddenly pop into your head can trigger that response.
For example, the moment you start asking yourself…
Will I be able to get or maintain my erection this time?
Will she enjoy herself or have an orgasm?
Will I come too soon?
Your brain picks up that worry and starts down a path that makes keeping your erection almost impossible.
Why impossible?
Because one of the physical changes your brain is rapidly ordering is a change to your blood flow.
Parts of your body that help you fight or run get prioritized, like the muscles in your arms, legs, and back.
Anything not needed for immediate survival is "deprioritized", like your fingers, skin… and penis.
Since your erection is pumped up by blood—and your brain considers that unnecessary for what it thinks is an emergency—you have no chance of keeping it up.
This "fight or flight" response is a biological mechanism developed back when we had to dodge danger on a daily basis, such as giant alligators or other creatures looking to snack on us.
In these situations, your brain is right: when a 500-lb reptile is hot on your heels, an erection is 100% unnecessary.
Fast forward to today. The bedroom should be a trigger for excitement, but instead can be an unintentional source of anxiety and stress.
Your brain can react in the wrong way just as things are heating up, mistakenly thinking you're in danger. The next minute, your body's primed to protect itself… and your erection is nowhere to be seen.
If this was an annoying one-off, you wouldn't have much of a problem. But you know that the reality is a frustrating, vicious cycle that strikes over and over again…
Trapped In The

"Performance Anxiety Loop"
"Performance Anxiety Loop"
When you fail to get (or keep) an erection once, you can write it off as a bad night.
Maybe you were tired, had a few drinks, or just weren't in the mood.
When it happens twice, it can stir worrying thoughts deep down.
But when anxiety has been destroying your sex life for months or even years, you're probably trapped in the "performance anxiety loop". Maybe you already know what it's like to be stuck in the loop…
1


Come bedroom time, you start to worry about losing your erection

2


That extra worry feeds into higher stress and anxiety

3


The more stressed you get, the more likely your brain flicks the "fight or flight" response on

4


You lose your erection at the "moment of truth"

5


Jump back to step 1, but with even more anxiety the next time
Some men call it a self-fulfilling prophecy: the more you think about your erection, the more you get trapped in the loop.
Others describe it as a domino effect: once that first domino of worry topples over, it cascades into an uncontrollable, erection-killing experience.
Whatever you call the loop, you're tired and fed up with having to deal with it. But while it's easy to fall into this vicious cycle, breaking out can be incredibly tough—even if you know the problem is in your head.
Sure, you get that you have to relax, that over-thinking is the enemy, and anxiety wipes out any chance of maintaining an erection.
But when you're in the middle of the moment, all of those are much easier said than done.
At the end of the day, all you want is a simple solution you can rely on to keep the confidence destroying worry out of your head when you're in the bedroom.
Is that too much ask?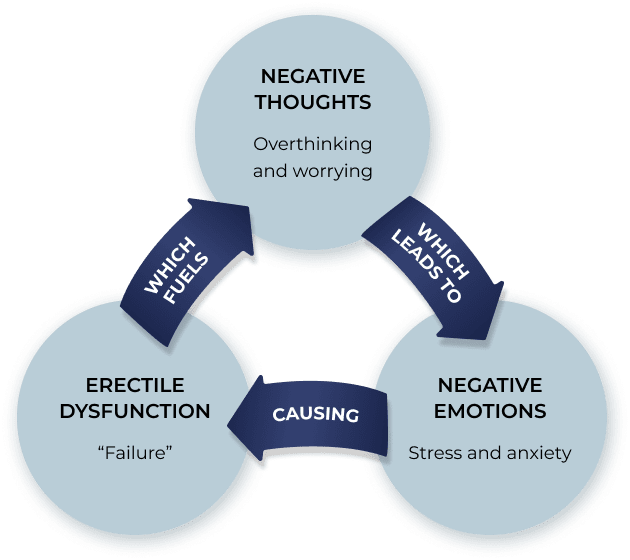 The Simple "Secret" Helping Men
Get Out Of Their Heads

Get Out Of Their Heads

And Back Into The Bedroom
Most men with performance anxiety never discover this secret, meaning their sex lives stay a struggle and source of constant anxiety.
But for those lucky enough to stumble across it, there's a simple, natural, clinically-proven (and pill-free) solution to help them get their erection back.

It's called mindfulness meditation, which
any man can use to break free

of the performance anxiety that turns an enjoyable evening into a night of agonizing frustration.
But what is it, exactly?
Mindfulness meditation is a mental practice that helps us become more mindful. Being mindful means you're focused on being aware of what you're feeling and sensing this very moment.
However, unlike a lot of the time we're in our heads, there's no judgment or analysis that lets stress worm its way in.
For example, right now you're reading this page. Maybe your mind wanders and you start to think "could this be the answer to my bedroom struggles?" or "what if this doesn't work for me?".
When you're mindful, you put those thoughts to the side and let the moment be. You just read.
Being mindful means you no longer think about what could go wrong. This helps your body and mind to truly relax and stay calm.
Stress and worry can hammer at the door all they want, but they can't get inside your head now.
And the best part:
Mindfulness meditation is so easy to do that almost any man can become relaxed and calm in bed in just 8 weeks so he won't have to struggle with a failure to perform again.
"Deactivate" Performance Anxiety
Before It Strikes
Of course, you wouldn't need mindfulness meditation if you weren't haunted by stress and anxiety at the moment of truth. So where does this "head trash" come from?
Put simply, anxiety happens when we worry about a possible future event or over-think something in the past. And when our brain's "time travelling", that's a problem.
If your head is stuck in the past or future, it's not where it's supposed to be: the present.
This is one way mindfulness is so useful. When we learn how to stay focused on the present moment, we drag our thoughts back to the minute we're in.
Once we do that, there's no room for anything else. Past regrets or future worries—and the stress that comes with both—don't get a look in.
But what if unwanted thoughts DO force their way in at the wrong moment?
Normally, a "what if I can't get it up?" would spell disaster.
But when you're mindful, you also observe rogue thoughts in a non-judgmental way and accept them for what they are—thoughts, not facts. Just one possible outcome.
This stops your brain triggering the emotional response of stress and anxiety… and avoids the "fight or flight" mode that ends erections in seconds.
In short, mindfulness lets you "deactivate" the performance anxiety loop before it strikes.
With mindfulness meditation, you rewire your brain for the better. The more you practice, the more in control you stay in and out of the bedroom, no matter how much stress is trying to get in.
Research Shows
Men Get BIG Changes With Mindfulness
Research has proven mindfulness to be a simple, non-medical way to restore your confidence in the bedroom.
A 2018 study found that 9 out of 10 men who used mindfulness for "situational ED" (the clinical term for performance anxiety) reported big improvements in getting and maintaining an erection, along with higher satisfaction with their sex lives.
managed to get and maintain their erection
Introducing The Between Us Clinic Performance Anxiety Program:
Introducing The Between Us Clinic Performance Anxiety Program:
Break Out Of The Loop And
Regain The Confidence
To Perform When It's "Go Time"
The Between Us Clinic Performance Anxiety Program is a mindfulness meditation-based audio course specifically designed to help men escape the loop, get their erections back, and keep them!
Get Your Erections Back With 3 Simple Steps

Step 1
Login
Log in to the website.
Step 2
Listen
Follow the guided mindfulness meditation and practice the one simple daily exercise.

Step 3
Repeat
Do this for 10-20 minutes a day for 8 weeks to see the difference for yourself.
Because The Performance Anxiety Program uses an easy, all-natural method to bring back your erections, there are…
No pills to take
No devices to use
No discomfort to handle
No side effects to deal with
Want To Enjoy Your Time In The Bedroom Again?
Start Here
Using this mindfulness-based program, you have a way to escape the performance anxiety loop killing your sex life and become a confident, relaxed lover who's ready and able to perform in the bedroom.
This is why the program is perfect for you:
The Right Exercises In The Right Order
Almost anyone could benefit from mindfulness, but it's a broad discipline used for anything from coping with grief to overcoming jealousy.
Naturally, those kinds of mindfulness approaches may not do much to bring your erection back.
That's why we created this program: so you get the right exercises in the right order that lets you break the vicious cycle of performance anxiety.
No past experience with mindfulness or meditation is needed, because you're guided step-by-step. All you have to do is follow the exercises for 10-20 minutes a day for 8 weeks, and you'll see for yourself.
Restore Your Mind-Body Connection
The mind and body are connected, which means your mind is one of the keys to getting an erection… and one of the culprits behind losing it.
When you understand how your body and mind work together, you're able to become even more mindful and make performance anxiety an unpleasant memory.
With the program, we'll show you how your mind and body affect each other, why your mind is behind your loss of erections, and how to use your mind to get it back.
Simply knowing what's going on inside your body can help relaxation and calmness while pushing away stress and anxiety. Ultimately, recognizing your mind-body connection can play a powerful part in defeating performance anxiety.
And the best part: this is included in the recordings, so all you have to do is listen while you practice the mindfulness exercises.
Created By Experts
Mindfulness is a hot topic today. Because of that popularity, more people have jumped on the bandwagon, which has led to misguided information showing up in places like YouTube or social media.
So men like you could get the best guidance, Between Us Clinic's team of experts, led by clinical psychologist and mindfulness expert Daniel Sher, developed The Performance Anxiety Program.
As a clinical psychologist and sex therapy expert, Daniel has spent years helping men overcome sexual performance issues through his private clinic.

You're Not Alone
The Performance Anxiety Program is straightforward and easy to use. All you have to do to conquer performance anxiety is listen to the recordings and follow the instructions. It's as simple as that.
But on the rare chance you do need more support, you've got it.
If you run into roadblocks or have questions, email our team of sex therapy experts whenever you need.
We've helped thousands defeat issues like premature ejaculation and erectile dysfunction through programs just like this, and we're ready to help you too.
Experts Agree:
This Program Is THE Solution

THE Solution

For Performance Anxiety
Men Taking Back Control
Richard, USA
I was able to feel calmer in the bedroom, which led to more erections and more sex
After using the Performance Anxiety Program for a few weeks, I found that I was able to feel calmer in the bedroom. This in turn led to more erections and more sex. I found this program to be relaxing and it increased mindfulness.
I would definitely recommend it to anyone who suffers from performance anxiety as this is a great tool to get it back under control. The Performance Anxiety Program helped me to grow sexually and has improved our sexual relationship.
* This client story is the personal experience of this individual. Your result may vary, depending on your starting point, personal pace and effort.
Marcus, UK
I feel much more confident and relaxed in bed
Performance anxiety is a cruel Catch-22. If you think about or get worried about your erection, you won't have one. Between Us Clinic's Performance Anxiety Program helped me get past that worry about my erection and to be able to simply enjoy the experience again. Even though I've never tried meditation or mindfulness training before, I found it a really simple and easy thing to do as their recordings guide you step by step.
* This client story is the personal experience of this individual. Your result may vary, depending on your starting point, personal pace and effort.
Brian, USA
I feel more like a man and my partner is much happier
This mindfulness practice has helped me rechannel my thinking so that I could escape the loop. As a result, I am no longer in constant fear of my ability (or inability) to perform and am able to focus on giving my partner pleasure. It's cliche, but I feel more like a man and my partner is much happier. Clearing my mind was definitely the hardest part I struggled with, but once I did, my erection returned and has never gone again.
* This client story is the personal experience of this individual. Your result may vary, depending on your starting point, personal pace and effort.
8 Weeks. 4 Modules. Erections That Get Up… And Stay Up
Following the simple and easy guided meditations for just 10-20 minutes a day, you can become mindful enough to break free from the stress and anxiety holding you back in the bedroom.
Module 1
Introduction to mindfulness
Introduction to mindfulness meditation
Relaxing your body and mind
Module 2
Being in the moment
Getting out of your head
Being and staying in the moment
Dealing with the "mind traps" that trigger performance anxiety
Module 3
Breaking out of the performance anxiety loop
Getting rid of the "fight or flight" response in the bedroom
Dealing with erection-killing stress so you can enjoy sex
Breaking the connection between negative thoughts, stress and anxiety
Module 4
Feeling relaxed and confident in bed
Getting into bed relaxed and confident (and staying that way)
Rewiring your brain to make mindfulness your "default mode"
Remaining calm in even the most stressful situations
There's no room for stress and worry in your bedroom
Rob, Australia
This first pill-free experience with my partner was a success
A few weeks of mindfulness practice helped me increase my sexual confidence up to the point I decided to try to have sex with my partner without ED pills for the first time. I had moments of doubt still, but I was able to power through. I felt this program gave me the tools to better deal with my thoughts and emotions by staying 'in the moment'. This first pill-free experience with my partner was a success. It was a great experience for both of us, which has been repeated over and over since.
* This client story is the personal experience of this individual. Your result may vary, depending on your starting point, personal pace and effort.
James, USA
This program helped me get past that worry about my erection
Through the Performance Anxiety Program, I learned that being mindful is a skill, something you train to become.
With a not too long practice I learned how to be mindful in bed. I could focus on the moment, not to think, to have a clear mind and to just be. I would surely recommend this program to anyone with similar performance anxiety issues. I believe that he will see an improvement day by day, just like I did.
* This client story is the personal experience of this individual. Your result may vary, depending on your starting point, personal pace and effort.
Beyond The Bedroom
The Between Us Clinic Performance Anxiety Program can help you become a relaxed, confident lover. But knowing how to be mindful goes beyond staying calm in the heat of the moment.
These are a few more reasons men like you choose to practice mindfulness, as it:
Improves your focus
Improves your immune system
Cuts down your stress
Boosts your short-term memory
Helps you stay calm in stressful events
Increases your ability to process information
Reduces your risk of repetitive negative thinking
Improves your well-being
Reduces your psychological distress
Improves relationship satisfaction
Join other men to reclaim control and confidence in both the bedroom and other parts of their life.
See The Hard Truth For Yourself…
Or Your Money Back
If you're willing to spend 10 to 20 minutes each day for 8 weeks with this program, we're confident your sex life will transform.
But you (and your partner) won't only see the difference in the bedroom. You might find you're generally calmer and more in control, especially when stressful situations strike.
That's why we're giving you 12 weeks to try the program yourself. Listen to the recordings, practice the exercises, and commit to the next 8 weeks. You'll see the hard truth for yourself or you'll get a full refund, no questions asked.
It's
Time To Take Your Sex Life Back
Sex Life Back
Grab the Performance Anxiety Program now, and you can start the escape from the performance anxiety loop strangling your sex life in just a few minutes.