Supportive Studies
Premature ejaculation is one of the most common sexual issues facing men, and researchers have been working on treatments for it for many years. Sexual behavioral therapy exercises – which Between Us Clinic's Premature Ejaculation Program is based on – has been one of the leading treatments for premature ejaculation since the '50s.
Many important research studies have been conducted on sexual behavioral therapy; the results of these studies are reported here.

Dr. Semans developed a cornerstone behavioral exercise treatment
Urologist James Semans developed a simple technique that can be practiced to overcome premature ejaculation.
Dr. Semans found in his research that what he called a "rapid reflex mechanism" causes premature ejaculation, and that affected men can find some relief if they prolong the operation of this mechanism.
Dr. Semans recommended that a patient train himself using the following method. His partner stimulates his penis either orally or manually until he experiences the sensations of an imminent ejaculation.
He then asks his partner to stop, and then, once this highly aroused state disappears, the partner resumes stimulation until he reaches the same state, after which the partner stops again. This cycle is repeated until the patient is able to postpone ejaculation indefinitely.
Through practice, the man learns to tolerate the stimulation "indefinitely," which indicates that the problem of premature ejaculation has been cured.
Parts of our Premature Ejaculation Program are based on the exercises developed by Dr. Semans.
Dr. Semans reported a 100% success rate in a group of 8 patients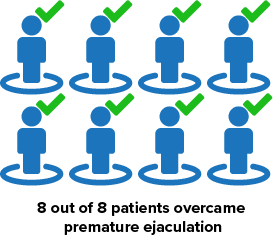 Masters and Johnson introduce the squeeze technique and report great success
William H. Masters and Virginia E. Johnson were pioneers of the research into the diagnosis and treatment of sexual disorders from 1957 until the 1990s.
Like Dr. Semans before them, they developed a technique designed to help men with PE become aware of the feelings and sensations that precede ejaculation, and then to learn to delay ejaculation by increasing their ability to tolerate and control these feelings.
The technique progresses from manual stimulation to motionless intercourse to intercourse with both partners moving, but unlike Dr. Semans's method, they suggested a special squeeze on the glans penis to stop building stimulation.
Between Us Clinic's Premature Ejaculation Program makes use of Masters and Johnson's squeeze technique.
Masters and Johnson reported that after a two-week intensive program, 97.8% of their patients were able to control their premature ejaculation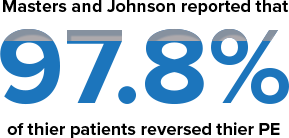 Dr. Kaplan shares her experience with exercises for premature ejaculation in her new book
Dr. Helen Singer Kaplan was an American sex therapist and the founder of the first clinic in the United States for sexual disorders established at a medical school.
Kaplan suggested that premature ejaculation occurs when a man lacks voluntary control over his ejaculation.
Dr. Kaplan helped spread the word about the effectiveness of sexual behavioral therapy exercise treatment for overcoming premature ejaculation, a method that strives to give men control over their ejaculation.
"
Over 90 percent of premature ejaculators can be cured within an average of 14 weeks of treatmentDr. Helen Singer Kaplan
Carufel and Trudel report high success rates for patients using behavioral exercises
François de Carufel, PhD, and Gilles Trudel, PhD, are both clinical psychologists who conducted research on premature ejacultion at the Université du Québec à Montréal (a university based in Montreal, Quebec, Canada).
They developed a new form of treatment for premature ejaculation called functional sexological treatment. They decided to test how it compares to traditional behavioral therapy which combines the stop-start and squeeze technique exercises.
The new treatment increased the duration of intercourse and the sexual satisfaction of both partners as much as the behavioral treatment.
The efficacy of the behavioral treatment which is the basis of Between Us Clinic's Premature Ejaculation Program was once again validated.
Carufel and Trudel reported an average of an 8.5-fold increase in intercourse length for patients treated with behavioral exercises, and an increase of 67% in the partner's sexual satisfaction level
Between Us Clinic's Premature Ejaculation Program Is Based on Proven Methods
We are not breaking new ground in terms of the methods we are using to treat premature ejaculation. Between Us Clinic's Premature Ejaculation Program is based on sexual behavioral exercises, a method that has been shown to be effective for the past 45 years, and is practiced regularly in "standard" sex therapy clinics.
Our program will provide you step-by-step guidance to completely overcoming premature ejaculation. You will acquire the ability not only to last longer in bed, but also the ability to enjoy better sex and increase your and your partner's satisfaction.
Just click the button below to be taken to our secure order page.