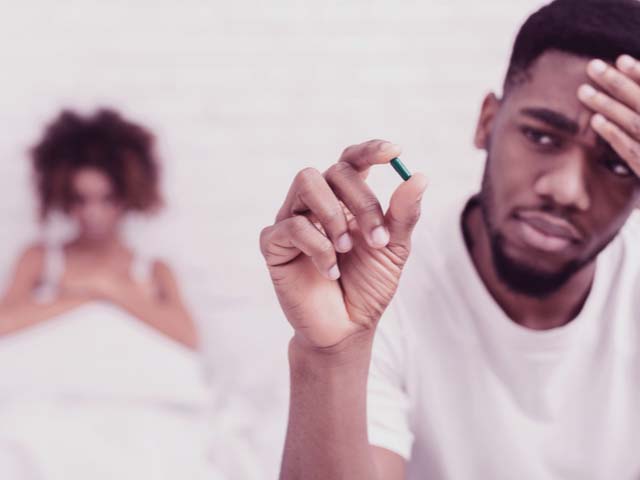 Viagra can help sexual performance anxiety but not in all cases. It usually depends on the underlying cause of performance anxiety and its severity.
For instance, if performance anxiety is caused by physical erectile dysfunction, then yes, Viagra should work. It will help treat the physical aspects of erectile dysfunction, and therefore help the man regain his erection, restore his confidence and reduce performance anxiety.
This study for example, showed that men who were treated with 50mg and 100mg dosages of sildenafil (the generic version of Viagra) improved their erectile dysfunction and therefore experienced reduced performance anxiety.
But what if performance anxiety is the cause of erectile dysfunction?
Can Viagra help you overcome performance anxiety?
Not always. To understand why let's talk about how erections work first:
The first two stages in the male sexual response are:
Desire – psychological or physical stimulation causes the man to get sexually excited
Arousal – Blood flows into the penis and inflates it. This leads to an erection.
Stress and performance anxiety interfere with the desire stage and block arousal. Without arousal, there is no erection. And if there already is an erection, performance anxiety usually triggers the "fight-or-flight" response, which draws blood away from the penis to the larger organs needed for survival.
Erectile dysfunction medications like Viagra work by relaxing the walls of the blood vessels in the penis, making it easier for blood to flow. But your brain needs arousal to trigger the blood flow to the penis in the first place.
But since the problem with performance anxiety is not related to blood flow issues, Viagra doesn't always work for erectile dysfunction caused by performance anxiety. Viagra doesn't cure performance anxiety.
Some men wonder what the best ED medication for performance anxiety is. But the truth is that all ED medications (such as Viagra and Cialis) are drugs from the PDE5 inhibitors family, and they all work on the same principles.
So, what can you do?
Our recommendation is to always address the root cause of the problem. There are several recommended psychological tools that can help with performance anxiety such as mindfulness, guided imagery, sex therapy, and relationship counseling. These can help you with performance anxiety before or while it happens.
Since performance anxiety doesn't always block desire completely, some doctors like to prescribe low dosages (usually 25mg) of Viagra as a temporary solution. This can sometimes help men who experienced performance anxiety just a few times to quickly break out of the performance anxiety cycle. Some doctors also prescribe Xanax and Viagra for performance anxiety together.
In our experience, though, there's always the risk of the problem happening again, so it is best to learn how to deal with performance anxiety when it happens instead of relying on medications. If you don't have a medical issue causing erectile dysfunction, you shouldn't use Viagra as a long-term solution.